Step-wise Processing
The adjustment of the atlas to the subject brain is organized on the Brain Atlas Adjustment page as a processing sequence. On each processing stage the user has to take some action such as data loading, alignment inspection or parameter configuration, and then start the next processing step.
Sequence of Page Layouts
The processing stages are implemented as different layouts of the Brain Atlas Adjustment page. The list element in the upper right indicates the current stage. When the list is opened as illustrated below, the sequence of stages is shown. Note that the sequence list depends on the type of data to be processed.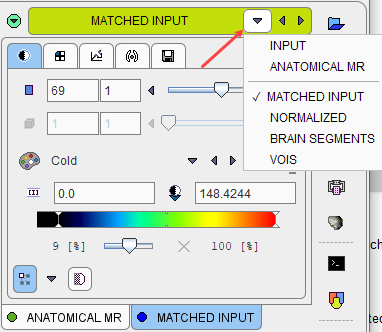 In each layout, some actions have to be performed, such as checking the alignment. Then the next processing step has to be configured with the parameters in the lower right. Processing is finally started with the green action button below the parameters e.g. Normalize as illustrated below.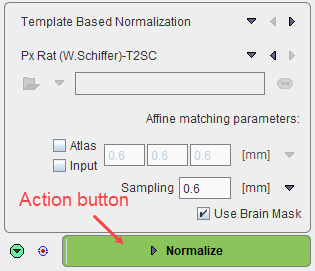 As soon as the result is calculated, it will be shown in the subsequent layout. If the result is not satisfactory, please return to the previous layout using the list selection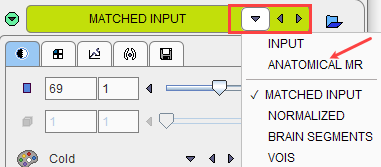 Then change the processing parameters, and activate the green button again.
Note that by using the left/right arrows or by directly selecting a list element no processing is started. This conveniently allows inspecting the results of the different stages. If there is a need to repeat a calculation with modified parameters, the action button in the lower right has to be activated again on the actual and all following pages.
Convenience Buttons
Next to the action button in the lower right there is an area with two buttons

offering the following functions:
| | |
| --- | --- |
| / toggle | Hide the parameters panel to free some space in the user interface. With the panel hidden, the icon changes to . When this button is activated, the panel is shown again. |
| | Resets the parameters on the panel to their default values. If the same button in the taskbar to the right is activated, the defaults are reset on all panels. |